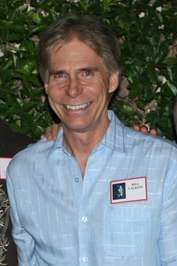 Los Angeles Personal Trainer Bill Calkins, M.A., Founder and Director of One to One Fitness is one of today's foremost Personal Trainers. He has shared his exercise philosophy on such programs as Hour Magazine, Eye On L.A., and AM Los Angeles. He has also been featured in articles in Newsweek, Los Angeles Magazine, Slimmer, TV Guide, Working Woman, and other national periodicals.
​ He
provides a service that bridges the gap between science and practical experience to give you the maximum possible benefits.
EDUCATION AND TRAINING
National Strength and Conditioning Association: Certified Personal Trainer
Master's degree – Kinesiology/Exercise Prescription - CSUN
Bachelor's Degree - Physical Education - CSUN
Member American College of Sports Medicine, and National Strength and Conditioning Association
Trained hundreds of clients since 1981
I've been a personal trainer since before personal trainers were known to exist (1981). Jane Fonda was still known as just an Actress/Activist at that point. I've trained hundreds of people over the years. It's been very rewarding to have aided so many in achieving their health and fitness goals. I greatly enjoy the personal interaction I have with each client. The bond that forms is the reason I got into one-to-one training. I'm proud and grateful for the fact that I have two clients who have been with me for over 30 years, and multiple 10+ year clients. Their loyalty and commitment to me has been greatly gratifying.
Over the years the science and practice of exercise, fitness, and training has evolved greatly, and so have I. I'm now focusing almost exclusively on people over 50 years old (fellow Baby-Boomers). It's the group I have the most skill and experience in training.
It's the group that can relate to me, while I can relate to them.
My experience is that most seniors appreciate working with someone closer to their age. The body doesn't work the same in your 20's as it does when you're in your 60's. The last thing they want is some 22 year old trainer yelling, "one more rep" at them.
In picking a personal trainer, considering personality and temperament is almost as important as experience and academic background. You want it to be a good match. If you're looking for the yeller and screamer, drill sergeant, no pain-no gain type, you should keep looking. My personality is easy-going, laid-back, and even-tempered. My
philosophy is to train hard, but train smart. It's training without straining.
There will be no yelling or puking (by you or me). I can get you the results you want without over the top intensity, decibel level, and theatrics. My primary focus is: 1) Keeping you safe and injury free and 2) Getting you as fit as possible while achieving all your goals.
So if you think I'd be a good match for you as your personal trainer, I'd love to talk to you about your fitness goals, and how I can help you achieve them.